News Archive
| | |
| --- | --- |
| | 28/02/00 |
James Lye Gears Up for the Corporate World! -- James found a new job with Citibank!!! He will be starting work on 3rd April as a Bank Product Manager. Cool huh? So now, we all know what'll be up next for him....=) The news is in the Life! section of The Straits Times today, and, as usual, for those who do not have access to the news, I have scanned in the article and included it here.
| | |
| --- | --- |
| | 25/02/00 |
8 Days -- This week's issue of 8 Days also featured James and Diana at the online chat session at Plaza Singapura.

3000 hits -- We've had 3000 hits on this site, ever since 4 November 1999!!! Isn't that incredible? Its been like only close to 4 months since the counter was added and we're having like 50 to a hundred hits per day, esp after 2000AD is released. Also, we've been having more and more fans from outside Singapore coming in here! Keep it up guys!
| | |
| --- | --- |
| | 15/02/00 |
Online chat with James Lye -- Last Sunday, 13th Feb 2000, James Lye was at Plaza Singapura for an online chat session organised by StarEastnet.com, supposedly for Valentine's Day. He was with Diana Ser, and there was also a Q & A session whereby they would answer questions from the people there. Sad to say, I learnt about it only 2 hours after the event itself (?!?!), thus it was too late for me to go. (This is also the reason why there was no mention of it at my site) Sorry to let you guys down!

Check out StarEastnet.com for details of the chat and also watch a video of the event!

Club Members -- Hey! Thanks for all your support! I am proud to announce that the number of JLOFC club members have been steadily rising each day, with an increasing number of fans from Hong Kong. The total number of members is now standing at 40, and increasing by the day. Keep it up! Also, it's good to know that James is becoming more and more popular regionally, even though he has quit acting. I think he can now be one of the "Best In Asia", probably even beat that "Don't-play-play" guy, Gurmit Singh...=)
| | |
| --- | --- |
| | 06/02/00 |
The JLOFC Members' List -- This month, we will be updating our fan club registry, so for all of you who are members of the club, or think you are one, please check out the members' list to confirm that you are listed. If not, then you might want to re-join the club again. Sorry for any inconvenience caused.
| | |
| --- | --- |
| | 04/02/00 |
Release of 2000 AD -- 2000 AD is officially open yesterday! You can catch it at all cinemas island wide this festive season. Don't miss it!

2000 AD Press Conference -- See what James has to say about the movie. Click here for more.

Also check out the 2000 AD Wallpaper from Mediacity.

Upfront with Najip -- Did you guys catch yesterday's episode? Well, it was an eye opener! There was an interview of James' family, including his auntie, cousin etc...Also, we got a glimpse of what he looked like when he was 18 yrs old! He sure looked like a geek then...haha. There were also many interesting facts about him that was revealed in the show. For one, according to James' cousin, he can't really drink...ohh...now we know! Hear his aunt relate about how James was such a naughty boy when he was young, chasing everybody around with a bottle of cockroaches. eeks...Its such a pity I cannot input video clips into my computer at the moment, so I guess I can only post the audio clip of the interview here. I'll try to do it soon. So, in the meantime...Hang in there!

8 Days (Issue 487/488) -- This Lunar New Year special double issue edition of 8 Days has got exactly 10 (!!!) pix of James Lye from cover to cover! I was flipping through it yesterday, and was surprised at the number of times that I saw his face inside! From Triple Nine, VR Man, right up to 2000 AD!

Showbuzz (2nd Feb) -- Gala Premiere of 2000 AD. James' mum was interviewed on showbuzz. hee...She's exactly what a "mother of a star" should look like huh? waddya think? Here's a pic of him and his parents taken at some charity event (Beauty World) 2 years back. I think the little boy should be his nephew.

Hey! Its New Year's Eve today and its gonna be the first Lunar New Year of the millennium...So, here wishing all of you a Happy Lunar New Year!
| | |
| --- | --- |
| | 30/01/00 -- 2000AD promotion at Plaza Singapura |
Read about what happened today. Pictures included too!!
| | |
| --- | --- |
| | 28/01/00 -- On behalf of all members of the James Lye Online Fan Club, we are going to give James a farewell card (below), a small token of our appreciation for all that he has done as an artiste, and also to bid him goodbye... |

| | |
| --- | --- |
| | 28/01/00 -- 8 Days (Issue 486) Catch James on the cover of this week's 8 Days!! As some of you should know, our club has got many fans from all over the world, from as far as Canada, Mauritius and Hong Kong. To most of them, this website is thus the source of any news concerning James. Therefore, for the benefit of these fans who do not have access to local news, I have included the article from 8 Days here. |
For more pictures featured in the mag, click on the cover page below.
[Click here to download the .zip file of the article--643 Kb]
Note: Zip File consists of 3 jpg images of the article.
| | |
| --- | --- |
| | 26/01/00 -- 2000AD promotion -- This saturday, 29th January at 2.00pm, James will be appearing at Plaza Singapura along with the cast of 2000AD such as Aaron Kwok, Daniel Wu, Phyllis Quek and Gigi Choi. This might be his last appearance in public, or so at least in the near future... Therefore, if you don't wanna miss it, remember to be there this saturday! Seeya there~ |
| | |
| --- | --- |
| | 22/01/00 -- James's resignation is splashed all over the headlines of all the local newspapers. See main for more details. |
James is quitting TCS!!!

The news is out, and I guess its pretty finalized. Its beginning to sink in...With it splashed all over the covers of local newspapers, its hard not to notice at all.

He has cited 'change in his priorities in life' as the reason he is leaving plus 'some other personal reasons'. He does not have any plans as to what he will be doing next, but one thing he mentioned was that marriage was not on the cards yet.

Does this signify the end of this club?

Is this the end of all the support showered upon James by all his fans?

There are so many questions and I have been thinking about what will be the next best step here at the James Lye Online Fan Club.

If you have anything to say about it, you are welcomed to share it with us in the forum.

Do you have anything you wish to say to James regarding this matter? Wanna wish him luck? or express your sincere wish that he might change his mind about leaving? or simply just let him know that you have been a fan of his?

Well, here's your chance. Send all your messages to my email add at jlofc@flashmail.com . I will compile all of what you guys have to say to him and will be giving it to him, on behalf of the club.

Please send all emails to me by Friday, 28th Jan, 2000.

[Note: The deadline has been extended till Friday]

21/01/00 (10.20 pm) -- JAMES LYE IS QUITTING TCS!!!
| | |
| --- | --- |
| | 21/01/00 (6.30 pm) -- New Paper |

James is featured in today's New Paper! huge picture of him in there... if you haven't bought it, then go get it now!

He talks about his role in 2000AD.
| | |
| --- | --- |
| | 15/01/00 |

Bella Magazine (Feb)

For all of you who still don't know, James is on the cover page of next month's Bella magazine. =>

Learn all about his love life in this article... pretty interesting, I must say, and has some NEW pics. It's already out at the news-stands, so what are you waiting for? Grab your copy now! You won't regret it...
| | |
| --- | --- |
| | 06/01/00 -- By popular demand, I have added the lyrics to Long Long Ago here! As I have been rather busy at the moment, I am sorry to say that I still cannot figure out why the mp3 can't be downloaded. But don't worry, I'll be fixing it asap! If you really want the song, you can also drop me a mail, and i'll try to send it to you. Thanks for all your support! |
| | |
| --- | --- |
| | 29/12/99 --I have added the mp3 version of his song Long Long Ago (from The Millennium Bug) in the Audio Clips section. Go check it out now! |
Its only 2 more days to the year 2000! yep, the much hyped-about Y2K.. So, here's wishing all of you a Happy Millennium!
| | |
| --- | --- |
| | Latest addition to the site! All you fans of James, listen up! We are now providing all you guys with a new service, free email! What's more, its a personalized, unique email@jameslye.zzn.com. You can even access this mail right off from this site! So, what are you still waiting for? Simply click here and you'll be on your way to your own email account. |
Free, personalized Jameslye Email!
Star Awards 1999

Yes! yes, James had won!!!!! Not that it came as a surprise to me though, just as I guess it wasn't either for him....
What came as a surprise though, was his "Thank-You" speech. Being voted as the Top 10 most Popular Male Artiste in tonight's Star Awards 1999, I mean...what can be more important than thanking those people that actually call in to cast their vote, to support him, so that he is able to stand there and give the "Thank-You" speech. Yeah, he did that.
On the other hand, I also see why some people, who landed the "Best Supporting Actress" Yang Li Bing, for that matter thank her Husband, Li Nan Xing, their family for their support and thus enabling them to give such good performances...and then to be the best.
BUT, I still don't see why James has gotta follow and thank some "mou-mou" people!!@~! I don't see the connection. It's not as if she made him so popular rite? And besides, NanXin is LiBing's husband, who is she to him? After what he said, I really wonder...if I even should have supported him in the first place. I used to think that I can call myself one of his greatest fan, but. now, I only want to say...He is such a disappointment!!!
Okay, this is just my opinion, some people say fans come and go, but family don't. What makes me wonder is, Don't girlfriends come and go too?
| | |
| --- | --- |
| | Wanna catch a glimpse of James? Well, he will be performing in the Millemium Swing show on Orchard road. (31/12/99) I heard that James will be at Stage A, wherever that is, and he'll be performing a song number with a few others like Andrew Seow. |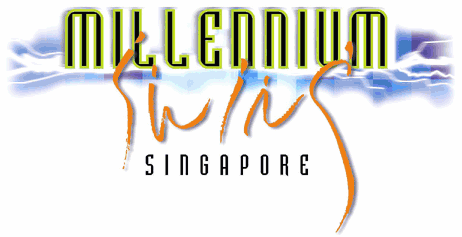 | | |
| --- | --- |
| | Coming up next, James is going to star in another movie with Fann Wong and Peter Ho. Filming is scheduled to start around mid to end Dec, so I guess we can all watch out for the movie to be screened next year. Hurray~! I will post more info about the movie here, once i get hold of them. So, do keep a look out! |
| | |
| --- | --- |
| | Hey! Have you all been watching James in the chinese drama "The Millennium Bug" ? Don't you think he is just soooooo cute? Still as charming as ever huh? Do you have any comments about his role in the show? Do post them in the club's Forum! |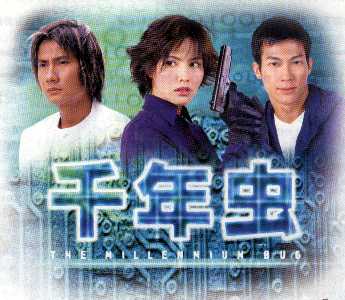 Click on the pic above to look at more pics from the show!
| | |
| --- | --- |
| | Next up, do watch out for his upcoming movie titled "2000 AD" also starring heavenly king Aaron Kwok and Phyllis Quek. It should be out early next year! More info will be posted here soon, so do keep a look out! |
Click on the link below to go to the official website of the movie.

Or click here to go to Raintree Pictures' website where you can also find out more about the movie!